India LTE smartphone shipments soar, Xiaomi sees sharp fall: research
A new report by Counterpoint Media research shows that in India 4G and LTE smartphones numbers grew at an astonishing 2400 per cent rate in Q3 of 2015
A new report by Counterpoint Media research shows that in India 4G and LTE smartphones numbers grew at an astonishing 2400 per cent rate climbing to 10 million units in Q3 of 2015, and while the top vendor positions have not changed drastically, Chinese start-up Xiaomi saw a massive fall.
Research from Counterpoint's Market Monitor service, showed that for the July-September quarter the smartphone shipments in India grew at 20 per cent annually. "Indian smartphone market is being fueled by two device trends, one is LTE and other being a phablet form-factor. LTE smartphone shipments more than doubled sequentially and almost up 2400% more compared to last year. Additionally, one in two smartphones shipped in India was a phablet," said Tarun Pathak, Senior Analyst at Counterpoint Research.
He added that LTE smartphones with sub $100 pricing are seeing significant proliferation. The smartphone consumer is moving online as well, and according to Counterpoint, one out of three smartphones sold was via the online channels like Flipkart, Amazon, Snapdeal, etc. One of three smartphones sold was an LTE phone and one out of four was a "Made in India," device notes the report.
The biggest shocker from the report, in terms of vendor rankings is the fall of Xiaomi. Counterpoint says that the Chinese tech start-up has seen their first decline in India as shipments fell by almost 46 per cent. Counterpoint blames fierce competition from Lenovo and Micromax's Yu brands, especially in the higher volume sub-$100 segment.
Where other market leaders go, Samsung is still in pole position in India and controls 19 per cent of the over all mobile phone market and 23.2 per cent of the smartphone market. According to the report, Samsung's mid-tier J series has been critical in maintaining volumes for the vendor, although it has lost share sequentially with minor presence in sub $100 smartphone segment, which is fastest-growing one.
India Q3 smartphone shipment report, India Q3 shipments, Counterpoint Research, 4G LTE phones in India, LTE phones in india, 4G Phones in India, Xiaomi, Xiaomi India market share, technology, technology news Data table via Counterpoint Research.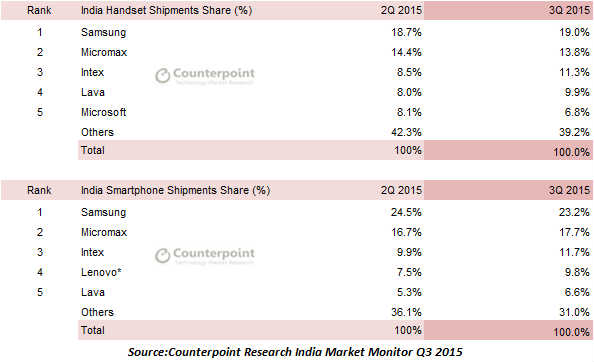 In second position is Micromax, which had a market share of 13.7 per cent (overall mobile) and 17.7 per cent (smartphone). According to Counterpoint, Micromax has seen its share from online channel increase during the quarter but faces increasing pressure in the $50-$100 category. The report notes that Micromax's Yu brand is also growing steadily and is now selling more smartphones than Xiaomi online. Based on Counterpoint's analysis, YU's new phones have dented Xiaomi's online space.
India Q3 smartphone shipment report, India Q3 shipments, Counterpoint Research, 4G LTE phones in India, LTE phones in india, 4G Phones in India, Xiaomi, Xiaomi India market share, technology, technology news Xiaomi has seen a sharp shipment decline in India.
Intex is number three in the list capturing close to 12 per cent of the smartphone market during the quarter, which is the first ever double digit share for the company. Intex is growing in the budget segment but remains week in the "affordable premium" segment, says the report.
Next in the overall mobile list is Lava (excluding Xolo) which surpassed Microsoft for the first time and thereby capturing fourth spot in the overall handset market with a 7 per cent market share. Lava's top phones were ATOM 2 and X1 selfie smartphones. In the smartphone segment though, Lenovo is in the fourth place (includes Motorola) thanks to strong sales for K3 Note, says Counterpoint. Lenovo's K3 Note was the best-selling smartphone in India during Q3 2015, if one were to go by the research firm. The research firm cautions though that Lenovo will need to realign its offline vs online strategy in the future, if it wants to position the two brands, Lenovo and Motorola separately.
Finally Counterpoint research also has some interesting numbers on Apple. It says that Apple finished its fiscal year in India with a record 1.7 million units in India for the first time ever due to strong sales of the iPhone 6 series. Apple's volume market share is still 1 per cent but in terms of revenue share they come in at number 3 with 9 per cent share.
The research also says that the best time for smartphone launches appears to be festive season. "At Counterpoint, we have analyzed that smartphone launches during the festive season generally have 20% longer shelf lives and a better recall due to the promotions and incentives associated with the product, which is key time for any OEM to introduce its offering in the highly competitive Indian market," said Tina Lu, Senior Analyst at Counterpoint Research.